Bill Gates seems to be inserting himself in many places, politically and medically, that he doesn't belong during the Coronavirus Pandemic. Many people, including myself, are wondering why a former software developer is on every news station telling the American people what is best for us and our families. He has even been announcing the steps we are going to have to follow in order to move towards reopening the economy, and making the case for a mandatory a COVID 19 test, a vaccine, and a microchip to prove we've taken them.
Who is this man, and why should we listen to him?
The media has done a fantastic job, like always, of painting this picture of Bill Gates that simply isn't true. He isn't some underdog entrepreneur who worked his way to the top, he isn't from humble beginnings. In fact, Bill Gate's parents are both from the wealthiest, most powerful families in the world. They are deeply rooted in the satanic elite as are most if not all of their associates.
So let us start from the beginning.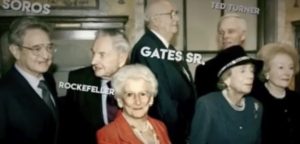 William H. Gates III, Or Bill Gates jr. isn't just a guy that "invented" something and got lucky like most people believe. He was born into a family with substantial wealth and power in the 1950's. His father William Gates II, was an attorney who co founded Preston, Gates, and Ellis, a law firm that had offices across the United States and China. The family was highly involved in politics, and he associated with many elite families we still know today.  He sat on the board of Planned Parenthood and was heavily involved in the eugenics group before the Infamous Roe vs. Wade decision. He was also the face of an income tax initiative in Washington state. I think it's worth noting, that after his first wife passed he married Meme Gardner, she is fluent in Chinese and served as former director of Asian art at Yale University. Gardner was also a lifelong friend of Teresa Heinz Kerry, the wife of Senator John Kerry.
Bill Gates mother, Mary Maxwell was also born into a family with significant wealth and power. Her father was a prominent banker, and her grandfather was the director of the Seattle Branch of the Federal Reserver Bank. What a coincidence.
Bill Gates went to the prestigious, and exclusive Lakeside School in the 1960's. When he first arrived he bragged to his teachers that he would be a millionaire by his late his 30's suggesting he was aware of what was in store for him. Lakeside had a computer on campus which was completely unheard of at the time. As the story goes Bill read the computer handbook and because of his extremely high IQ he taught himself how to code.
While at Lakeside, Bill Gates and Paul Allen were getting paid by huge computer corporations to find bugs in their system and write computer programs. Get this, Bill Gates is credited with making the first computer virus during this time at Lakeside School. How interesting. I believe it's safe to say that this was the point in Bill Gates life where he learned that by creating a problem (computer virus) he could profit from the solution (anti-virus).
Bill Gates is very intelligent, like many of the elite, and he scored a 1590/1600 on the SAT test. Harvard was eager to accept h