Disclaimer: The following content is extremely disturbing, continue with caution.
In July 2019 Jeffrey Epstein, the billionaire  financier, and registered sex offender (convicted in 2008 and got off with a slap on the wrist. This took place in Florida under a non-prosecution agreement he signed with the office of the U.S. attorney for Miami (which was then headed by Alex Acosta, then U.S. secretary of labor). He was arrested just days after a federal appeals court in New York ordered the unsealing of nearly 2,000 pages of records on July 9th naming some prominent global elite figures implicated in the international sex ring involving minors and Epstein. This video goes into detail about the case.
According to court records in Florida, authorities said, at least 40 underage girls were brought into Epstein's Palm Beach mansion for what turned into sexual encounters after female handlers such as Rachel Chandler, a supposed talent scout, looked for suitable girls locally, in Europe and other parts of the world. Some girls were also brought to Epstein's homes in New York City, New Mexico and a private Caribbean island, Little St. James Island (AKA Epstein Island), according to court documents.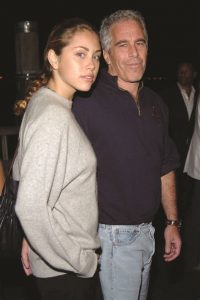 At his first court appearance Epstein pled not guilty, his attorney argued these charges were "ancient" and had already Been heard by the court and ruled on hoping to get Epstein out on bond. However, Prosecutors argued that because of the new discovery of the photo trove, and Cd's labeled "girl pics nude" Mr. Epstein could not be freed on bail. "As a man of nearly infinite means" — including six homes and two private jets — which made him a significant flight risk, and the Judge agreed.
Prosecutors had seized hundreds, and possibly thousands, of "sexually suggestive" pictures of nude or partially nude young women and girls during a search of Mr. Epstein's Manhattan townhouse conducted at roughly the same time the financier was arrested at Teterboro Airport (KTEB) in New Jersey. Teterboro is primarily an airport used by the "rich and famous" to fly their private jets into the NYC area. There is no real security in private terminals like these. No TSA,